There has been a lot of activity over the past month, both at the factory and from the community, and we would like to thank everyone for their continued support. We have more than 600 registered members on the Fresh Air for Hout Bay (FAHB) website and we are continuously growing support. Here are some important updates from over the past month.
1. Air Pollution Impact Survey
In March 2017, FAHB launched our Air Pollution Impact Survey to document how people are affected by the odour pollution and emissions from Oceana. This study will run for the next six months and we are hoping to collect at least 2,000 surveys. These will be submitted to the City of Cape Town as part of the public participation process for the renewal of Oceana's Atmospheric Emissions License scheduled for November 2017.
So far we have received nearly 300 surveys, accounting for more than 1,000 residents. You can access the survey online or collect them at the following locations:
Enjoy a cup of coffee while completing your survey and leave it any of these locations for collection. We would especially like to thank these businesses for their support. We will also be distributing surveys to more locations over the next month – if you would like to support us with this please contact us.
2. New scrubber due for installation, operational by July 2017
In our January 2017 update, the City informed us that a new scrubber technology would be installed at the plant during the second quarter of 2017. We have since received this update from the City:
"Oceana is in the process of acquiring a specially manufactured chemical scrubber and this will be installed and commissioned during the first half of this year. As of 31 March 2017 the new scrubber has been manufactured and the stack is in progress. The civil work for the scrubber and the stack have commenced in the plant. The scrubber, stack and ancillary equipment will be installed and commissioned by the end of June 2017."
Despite the installation of the new scrubber, we do not believe there will be any significant change to the odour. We will provide further updates as it becomes available.
3. Health Risk Assessment – implications or not?
On Friday 31 March, the Sentinel newspaper featured an article 'Harmful or not' regarding speculation over the health impacts of Oceana's emissions.
In late 2016, the then MAYCO Member for Health, Cllr. Mamkeli, stated that a Health Risk Assessment found the emissions from Oceana to be potentially harmful, and housing development in Hangberg was halted as a result (Sentinel: Stench Halts Housing). FAHB has been trying to gain access to the report for several months by liaising with Cith Health, the Housing Directorate and applying through the Access to Information Process. We are still waiting to receive the document.
In March 2017, Cllr Brett Herron then stated that there were no health implications found in the report but explained the report could not be released because of it's 'sensitive content'. The information received from the City has been conflicting and contentious – what is the truth? Are Oceana's emissions harmful to our health?
FAHB believes the Health Risk Assessment should be publicly available and will continue to liaise with the City until this document is obtained.
4. FAHB information stand
Thanks to all of you who attended the information stand hosted by FAHB on 1 April 2017. We had a great turn out and were able to distribute surveys and information to concerned residents. It was also an opportunity for us to see how you are impacted by Oceana's emissions from a health, well-being and business perspective.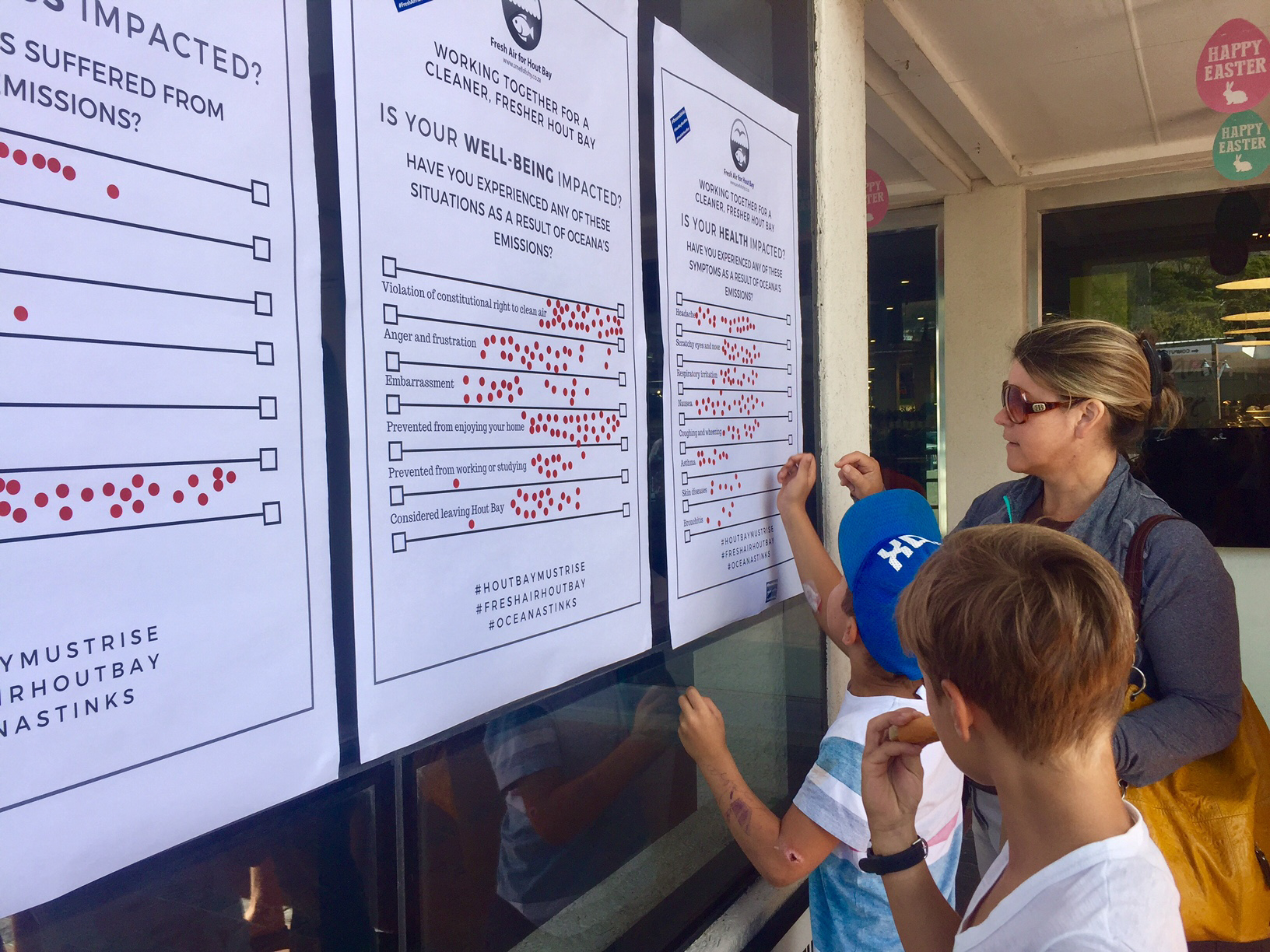 FAHB is hoping to hold more events in the future to share and distribute information.
5. Keep registering complaints
Thank you to everyone for the extensive number of complaints to the City of Cape Town. Please keep sending these complaints – they help to document how people are impacted and it increases awareness with the City about the severity of the situation. Please use the emails provided on our home page – this is the complete list of people that need to be contacted.
Also be aware that the Oceana fishmeal factory website is working again. Feel free to visit their website for more information or to log a complaint.
If you have any questions regarding this information, please feel free to get in touch.
Please remember that FAHB is run by a group of volunteers and we need as much help as we can get. If you have ideas, skills, contacts, research ability or anything that might be of use, please send an email to freshairhoutbay@gmail.com. This situation will only be changed by all of us working together so please share your ideas and get involved as much as possible.