In our previous update, Fresh Air for Hout Bay (FAHB) provided important information about the public participation process launched for Oceana's operating licence. In this update, we provide you with follow-up on that process, the results of the FAHB Air Pollution Impact Survey, and information about the health risk assessment.
1. Comments on the variation and renewal of Oceana's Atmospheric Emissions Licence
FAHB would like to thank everyone who sent their comments to the City of Cape Town regarding the variation and renewal of Oceana's Atmospheric Emissions Licence (AEL). We know that a significant number of comments were received and this was an important step in having our concerns officially documented – thank you to everyone who took the time to do this.
FAHB also submitted a formal comment document, which you can find here. This document comprehensively outlined the concerns raised by the community and can be summarised as follows:
The current emissions from Oceana already pose a health concern, with symptoms such as nausea, headaches, and respiratory ailments clearly documented.
The City of Cape Town has delayed access to the Health Risk Assessment, containing pertinent information about Oceana's emissions.
The introduction of formalin as a raw material raises further health concerns, including increasing respiratory ailments and being a known carcinogen.
The noxious odour emitted by Oceana has significant negative impacts on well-being and is a violation of the Air Quality Management By-Law.
The noxious odour negatively impacts businesses in Hout Bay and prevents growth and development in the tourism and business sector.
Oceana's employment numbers are low relative to their significant negative impact on job creation and socio-economic development as a result of their emissions.
No environmental impact assessment has been conducted for the factory and there is no consideration for the impact the factory has on the community.
The complaints register is largely faulty and inaccurate and the concerns raised by the community are not taken into account.
Thus far, both the City of Cape Town and Oceana have not demonstrated transparency in their actions, failing to acknowledge, respond to, or rectify the concerns raised by residents.
In terms of the process going forward, all interested and affected parties will have their concerns documented in a comments and response table, which will then be tabled to the City. The City has 60 days to consider and make a decision to grant or refuse the AEL, and a further 30 days to issue the licence if their application is successful. We expect that an announcement will be made around November 2017.
2. Results of the FAHB Air Pollution Impact Survey
FAHB would also like to thank everyone who participated in our Air Pollution Impact Survey – over 400 surveys were completed and we would especially like to thank the businesses that helped us collect the surveys. Your help is much appreciated and it enabled us to paint a clear picture of how Oceana's emissions impact our community.
Here is an overview of the survey findings: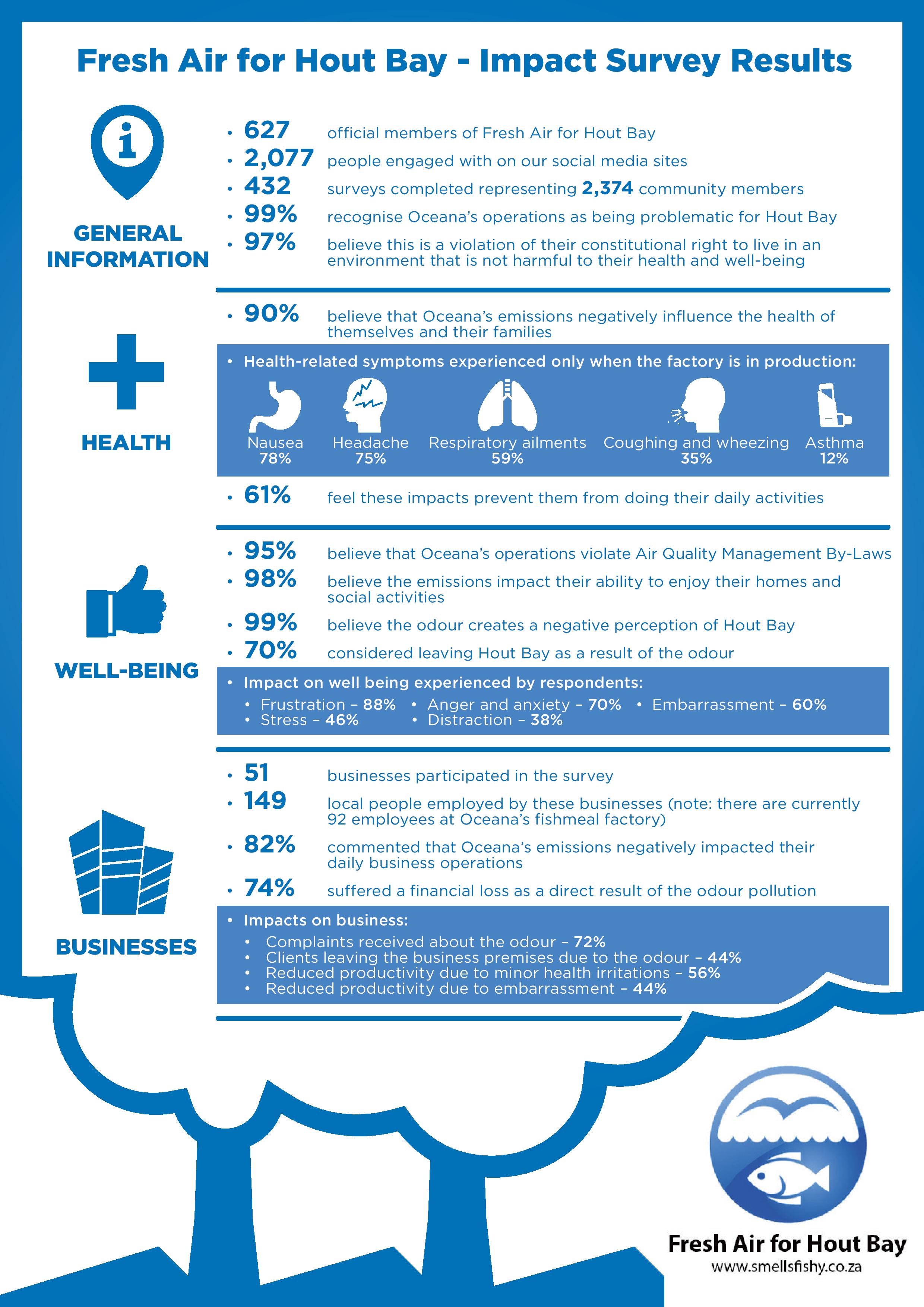 3. FAHB receives Health Risk Assessment information
There has been an on-going debate about the results of the health risk assessment conducted in 2016 and after more than eight months of trying to retrieve the information, FAHB has finally received sections of the report. This information is currently being reviewed and a more detailed overview will be provided in our next update.
4. FAHB comment on recent protests over fishing rights
There have been a number of protests recently regarding the allocation of fishing quotas, following the announcement by the Department of Agriculture, Forestry and Fisheries (DAFF) that there would be a significant reduction in rock lobster quotas for local fishers.
The allocation of fishing rights is an extremely important issue in Hout Bay and FAHB fully supports the local fishers in this regard. FAHB has long been concerned that there is too much focus on the industrialisation of the fishing industry and that large companies, like Oceana, have priority over local fishers. It is our understanding that Oceana hold the majority of pelagic fishing rights in Hout Bay and there is little opportunity for small-scale fishers to participate in the industry. We believe this is yet another reason why Oceana's operations cause harm in the community.
FAHB believes that fishing quotas should be allocated to local fishers, not multi-million rand companies such as Oceana, who reap the majority of the profits while the local community continues to face a range of developmental challenges.
FAHB will continue with its research in understanding the rights allocation with regards to Oceana, and we welcome input from the community about this.
If you have any questions regarding this information, please feel free to get in touch.