As the winter months begin, activities at Oceana's fishmeal factory typically slow down because the wet weather makes it difficult to fish. While we may experience less odour pollution, it is still important to keep pressure on the City and to continue with the activities that support our objective. Here are some important updates for May-June 2017.
1. City denies FAHB access to Health Risk Assessment 
Following our on-going efforts to gain clarity on the health implications of Oceana's emissions, the City of Cape Town has denied FAHB access to the 2016 health risk assessment.
In late 2016, the then MAYCO Member for Health, Cllr. Mamkeli, stated that a Health Risk Assessment found the emissions from Oceana to be potentially harmful to health, and housing planned in the vicinity of the factory was halted. FAHB requested access to the report, commissioned by the Housing Directorate, but this was denied claiming that the report contained sensitive information regarding the proposed locations for housing development. Despite several attempts, the Housing Directorate continued to withhold the report from the community.
FAHB then applied for both the health risk assessment and Oceana's Atmospheric Emissions License (AEL) through the Public Access to Information process (PAIA), which aims to ensure that government information is available and accessible to the public. The City again denied us access to these reports. Regarding the AEL, the City cited that the third party (in this case Oceana) 'refuse the disclosure of the information' and that an appeal has been submitted to the license, thus any disclosure of it would cause prejudice for its application. Regarding the health risk assessment, this was denied because the report has not even been received by the PAIA offices and they are thus not able to make a decision. FAHB will be appealing this decision following the PAIA proceedures and will engage with NGOs involved in access to public information to see what else can be done.
Based on these events, it is the opinion of FAHB that the City of Cape Town is deliberately withholding information from the community and is favouring the rights of Oceana above the rights of the people of Hout Bay.
FAHB has been trying to correspond with Alderman JP Smith and his department of Social and Safety Services for several months, but to date none of our correspondence has been answered. FAHB is in the process of sending an official letter to Alderman JP Smith and further updates will be made available.
2. Air Pollution Impact Surveys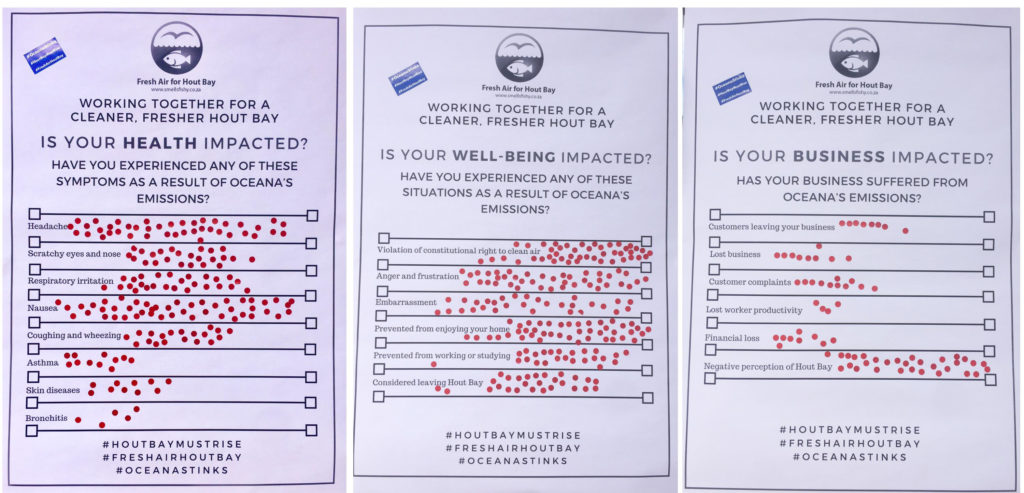 FAHB is continuing with our Air Pollution Impact Surveys to document how people are affected by the odour pollution and emissions from Oceana. Thus far we have collected over 300 surveys accounting for more than 1,200 residents, and these will be submitted to the City of Cape Town later in the year.
The surveys are an import way of officially documenting our concerns about Oceana's emissions so if you have not already done so, please complete or share a survey today.
You can access the survey online or collect them at the following locations:
Surveys will be available at the Hout Bay Market soon. FAHB has also been working with Thrive to distribute the surveys through their Eco-Hero's school programme.
FAHB would like to thank all of these organisations for their support and the efforts they are making towards helping us build a better community.
3. Installation of new chemical scrubber
The new chemical scrubbers were installed at the fishmeal factory on 16 May 2017. Further equipment is being installed and commissioning is expected to take place by the end of June 2017. Oceana released a brief update on their website and an article was featured in the Sentinel newspaper.
Despite the installation of the new scrubber, FAHB does not believe there will be any significant change to the odour pollution. We will continue to montitor the extent of odour pollution after June 2017 when the scrubber is operational.
4. What is the future of the Hout Bay harbour?
At the end of May 2017, an article was published in the Sunday Times entitled 'Pretoria floats its big plans for fishing harbours'. The article states that the national Department of Public Works has released a comprehensive small-harbour briefing document, revealing the location of 33 economic development hubs. Government is currently meeting with investors and final project decisions will be made in November 2017. The briefing document also details expected job opportunities to increase in 2030 for small harbours, claiming between 1713 and 2318 jobs in Hout Bay alone, although no further details of this are provided and it appears little discussion has taken place with the community. FAHB will try to obtain more information about this but if anyone has further information on these plans, please do let us know.
If you have any questions regarding this information, please feel free to get in touch.
Please remember that FAHB is run by a group of volunteers and we need as much help as we can get. If you have ideas, skills, contacts, research ability or anything that might be of use, please send an email to freshairhoutbay@gmail.com. This situation will only be changed by all of us working together so please share your ideas and get involved as much as possible.